Description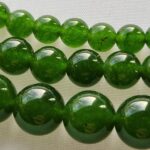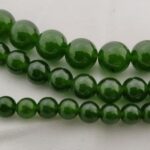 Introducing our exquisite Green Jade Bead Strand from Vietnam! Crafted with precision and showcasing a stunning deep green hue, these beads are a captivating addition to your jewelry creations. Their unique color sets them apart from the darker shades of Canadian jade, adding a distinct touch of elegance to your designs.
Product Details:
– Material: Green Jade
– Origin: Vietnam
Features and Highlights:
1. Exquisite Green Jade:
Our Green Jade Beads from Vietnam exhibit the natural beauty of this revered gemstone. With a lovely deep green color, these beads emanate a sense of tranquility and harmony. Each bead is carefully polished to enhance its luster and reveal the unique patterns and characteristics of the jade.
2. Unique Shade:
These green jade beads possess a distinct shade that sets them apart from the darker hues typically associated with Canadian jade. Their vibrant deep green color exudes a sense of freshness and vitality, adding a touch of uniqueness to your jewelry designs.
3. Versatile Design Options:
With their varied shapes and sizes, these green jade beads offer endless design possibilities. From statement necklaces to delicate bracelets and earrings, you can create stunning pieces that reflect your personal style. Combine them with other gemstones or use them as focal beads for a captivating look.
4. Natural Beauty and Symbolism:
Jade has long been revered for its beauty and spiritual significance. It is believed to bring good luck, harmony, and balance to the wearer. Incorporating these green jade beads into your jewelry designs not only adds a touch of elegance but also infuses your creations with the positive energy associated with this precious gemstone.
5. Craftsmanship and Quality:
Our green jade beads from Vietnam are meticulously handcrafted, ensuring exceptional quality and attention to detail. Each bead undergoes a careful selection process to ensure consistent color and finish, resulting in a cohesive and visually appealing strand.
6. Cultural Significance:
Jade holds significant cultural importance in many Asian cultures, including Vietnam. It is considered a symbol of wisdom, prosperity, and protection. By incorporating these green jade beads into your designs, you pay homage to the cultural heritage associated with this exquisite gemstone.
Indulge in the beauty and uniqueness of our Green Jade Bead Strand from Vietnam. Whether you're a jewelry designer, collector, or gemstone enthusiast, these beads will add a touch of elegance and a vibrant pop of color to your creations. Elevate your designs with the natural allure and positive energy of green jade. Order your strand today and unlock the captivating world of Vietnamese jade craftsmanship!